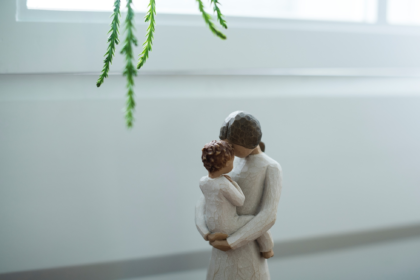 All of us knows this word, and all of us uses it everyday. But what does a word "mother" really mean?
Upon searching in Google I saw three different meanings of it. One as a noun and two as verb.
These are:
1. a women in relation to her child or children.
2. bring up a (child) with care and affection.
3. gave birth to.
So we can see from the various definitions above of the word "mother" that the word itself is very dynamic and has its own complexities. So lets talk about it a little more. I will explain it in non-chronological order.
The third meaning is the simplest of all. Because it only applies to the biological mothers who experience the process of pregnancy up to the delivery of the baby. With that description in mind, from the moment that we saw a women with a bulging tummy we will instantly say that sooner or later she will become a mother.
The first meaning, on the other hand, pertains not only for the birth mothers but to the adoptive mothers as well. For those women who adopts a child they can also be called mothers.
Lastly, the second definition above is the most profound one and for me its a very empowering meaning. Why? Because as the definition states you don't have to be a real mom or an adoptive mom just to be called "mother", but even if you are a men, a grandfather, a sister, an auntie or whoever you are and you "bring up someone (a child) with care and affection" then you can be called a mother! Yeah right!
Is this a truth Lai? If you may ask me. Definitely yes!
Do you have a proof? Sure! Okay I will share it with you.
My daughter Kei is on her 2nd year in a public daycare center here in Valenzuela City as a Kinder student. As her mom I need to attend their yearly parent meetings, they called it the "Nanay-Teacher Day". This meetings are very good and a very informing one, since the moderator is from the city's Department of Social and Welfare Development (DSWD), the parents or guardians of their students will be given the right information and guidance on how to be the best mother and teacher to their kids. And this is where I heard and learned that everybody can be a mother to a child – no exception – because all of us – whether you're a man or woman, has the capabilitity to raise and nurture someone like these little ones, even if it's not our own blood and genes.
So basically I attended this Nanay-Teacher Day (Mother-Teacher Day) twice and I really appreciated it (thank you Valenzuela City!) with my heart, so I will tackle it more in my future posts so you moms can benefit from it too!!
So what is the answer in the question "What does the word 'mother' really means?" Well if you have love and compassion to others to the the point that you want to provide someone a place to grow, to raise and teach him on how to become a good person, then in its truest sense you can be a mom! You can be the living definition of the word 'mother'!And with that meaning ANYBODY can be a mom!
Motherhood is a very complex thing and if I can't pause my mind out of it these post will not end sooner. So right now I just laid the fundamentals of it here and I hope I gave you guys something valuable, do I? Do you learned something from this? Write your comments here below, I will appreciate your words and insights about it. Thank you! =)