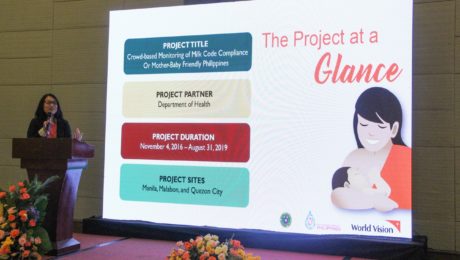 World Vision Philippines, has relaunched it's Mother-Baby Friendly Philippines (MBFP) web-based and mobile application platform last June 27, 2019. This app can be use by everyone in promoting breastfeeding to public and in reporting Milk Code violations in the country.
The event held at Luxent Hotel and attended by the health sector's stakeholders, the local government units (LGU's), together with the breastfeeding community, the academe, and the media.
The launched event, hosted by World Vision celebrity advocate Gelli Victor, a breastfeeding mom herself, and is also supported by other World Vision celebrity ambassadors Christine Bersola-Babao and Tippy dos Santos who rendered a song, to the delight of the breastfeeding-supporter guests.
This activity aims to promote the culture of breastfeeding. It also seeks to protect the rights and privileges of every Filipino mother to practice breastfeeding in their chosen places, like in their homes or workplaces.
The newly-enhanced MBFP reporting app also now includes Filipino translation and a Growth Chart and Early Child Care and Development (ECCD) Checklist. The app was made to help parents track their child's development and milestones.
Within the said event, the Public Service Advertisements (PSAs) is also shown, where it features the powerful stories of real breastfeeding mothers. The PSA aims to inspire other fellow moms to breastfeed their children up to two years and beyond.
One of the moms, 42-year-old Maribel, was featured in the TV and graced the event, proudly shared that she breastfed all her seven children. The three ads will be televised soon on free TV and social media.
"To make #BreastmilkForTheBest fully realized for Filipino children, we need to continue making mothers and the community know that we have laws that protect and support breastfeeding. Now the challenge for all of us, is to ensure that these laws are fully implemented," said Carleneth San Valentin, Health and Nutrition Technical Manager of World Vision.
Mother-Baby Friendly Philippines is a project of World Vision in partnership with the Department of Health (DOH) and the city government of Malabon, Manila, and Quezon City.
To know more about this project, about breastfeeding, and the Philippine Milk Code, visit http://mbfp.doh.gov.ph or download the MBFP mobile app.
About
World Vision World Vision is a global Christian relief, development, and advocacy organization dedicated to working with children, families, and communities to overcome poverty and injustice. World Vision serves all people, regardless of religion, race, ethnicity, or gender.