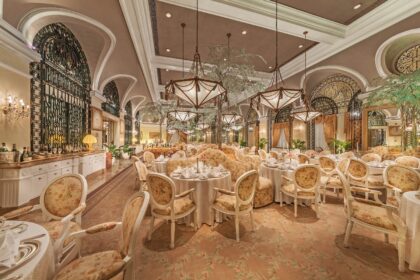 Have 'A Taste of Japan' as The Manila Hotel's Champagne Room invites you to an evening of epicurean journey with its exclusive Saga-gyu dinner paired with bespoke wine.
The most discerning meat fans and wine enthusiasts will be treated to a 7-course dinner featuring dishes curated by our special guest chef from Japan, Hiroki Samata—a classically-trained chef and master butcher whose impeccable knife skills are admired by many.
Chef Samata will exhibit his culinary creativity with a menu that puts the spotlight on Saga-gyu beef which is one of the world's most revered delicacies. But what makes this illustrious meat stand out among the rest? Saga beef cows live a life of comfort and luxury, nurtured using expert breeding techniques, and are free to relish the infinite beauty of Saga's natural surroundings. As a result, the cows produce a perfect balance of fat marbled in lean meat, known in Japanese as tsuya-sashi or "glossy marbling" which is the key to its melt-in-your-mouth texture and unparalleled flavor.
To make the dining experience more enjoyable, our partner Titania Wine Cellar will guide our diners with wine pairing nuances using their extensive range of quality wines such as Piccini Memoro Italia Bianco and Chateau Loyasson Bordeaux AOC, to name a few.
This elegant night of fine dining and wine pairing will be held exclusively on March 15, 2023 at 7PM at the Champagne Room. Seats are limited to 40 persons and are priced at Php 10,000 nett per person.
For inquiries and reservations, call (+632) 85270011 or (+632) 53015500 locals 1262-1266, 1300. You may also send an email to restaurantrsvn@themanilahotel.com or r.champagneroom@themanilahotel.com.
About The Manila Hotel
The Manila Hotel is situated in the heart of the City of Manila. Defined by its history, elegance, and world-class service, the Manila Hotel maintains to be the choice hotel of the most distinguished clientele. Over the years, The Manila Hotel continuously provides the best services and amenities for a truly memorable experience. It has more than 500well-appointed rooms and 22 function rooms. Apart from these, the hotel offers five-star relaxation and wellness experiences with the Manila Hotel Spa and Manila Hotel Health Club. It has 6 dining outlets, each offering a unique culinary adventure: Café Ilang-Ilang which is a favorite spot for its extensive selection of international buffet delights; The Champagne Room with its Old European style fine dining and also hailed as the most romantic room in Manila—it features French cuisine in a posh, fine-dining setting; Tap Room, an Old English pub-inspired outlet where one can enjoy an evening of jazz music; Lobby Lounge which is ideal for casual dining, aperitif, post-dinner nightcaps, or leisure meetings; Red Jade, a fine dining restaurant that serves authentic Chinese cuisine; and The Deli that offers the hotel's signature pastries, breads, chocolates, and pralines.
Hotel Contact:
Marvin Kim Tan, Director of Sales and Marketing, +63 998 951 1912, k.tan@themanilahotel.com